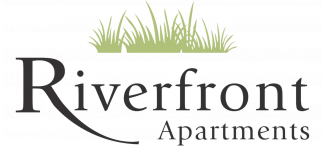 Your Review
Submit a Review

Resident Reviews
|Recommended: YesGreat place to live. — I'd say it's a great place to live. I've recommended it to several friends.
|Recommended: YesA Quiet and Wonderful Place to Live — Riverfront apartments is a place that makes sure to take care of its tenants. After living here for nearly a year now, I wouldn't want to live anywhere else when it comes to an apartment complex. The interior is well built and the supplied amenities are fantastic. Any issues that have arisen either via neighbors or otherwise were handled promptly and without dismissal from the staff. I have loved living here and intend to stay a few more years at the very least
|Recommended: YesGreat place to live — We really like living here.The maintenance is great and very fast. Godfrey and the office staff are very helpful and always friendly.
|Recommended: YesClean, comfortable, and affordable — The apartments are well constructed, maintained, and comfortable. The noise from neighbors is negligible and the property grounds are well cared for especially considering the number of pet areas. Management is friendly and helpful anytime you have an issue. Overall our experience has been great.
|Recommended: YesOverall great place to live - we are happy here. — My only real complaints would be that the walls are super thin so you hear your neighbors, especially if they're inconsiderate of the fact that this is an apartment building and don't try to be quiet. The only other downfall that was a bummer to me is the layout of the living room, because it's more rectangular shaped our furniture doesn't fit too well and there's not really a place that we can put our tv that doesn't put it in the way of something else. Honestly though, these apartments are beautiful I've gotten over the living room thing, it was just more of a shock at the beginning since we didn't tour our actual apartment layout first . We absolutely LOVE the leasing office staff, they are so friendly and on top of everything. The grounds are kept nice and clean A few other things I absolutely LOVE about the apartments would be the fact that you have an actual laundry room, the linen closet is massive, the cupboard space is abundant, and the kitchen is way more than you would expect from an apartment I love way more things about Riverfront than the few negative things. The positive things definitely outweigh the negative and I intend to stay here until my husband and I can purchase a home
|Recommended: YesGreat place to live — It's very clean, quiet, and staff is always professional and helpful.
|Recommended: YesI love living at RiverFront — The apartments are spacious and gorgeous. The office staff are kind and helpful.
|Recommended: YesIt is great. — For the time being, I am very much satisfied. I especially commend the way our maintenance work orders are processed followed by a speedy action.
|Recommended: YesI think it's very professional. — It is very nice. The building itself is very new and looks beautiful inside. All of the front desk workers are friendly and helpful.
|Recommended: YesIts clean and the interior is nice and modern. — its a nice apartment and neighbors keep to themselves. Staff is helpful and friendly
|Recommended: YesGreat — Great Staff, best staff ever
|Recommended: YesExcellent — Quiet, clean, comfortable
|Recommended: YesGreat Quality Great Place — This is a wonderful community that is new and has a great price for the quality of apartment. Great location because you're close to the freeway but in a quiet area at the same time. Friendly staff with great monthly activities.